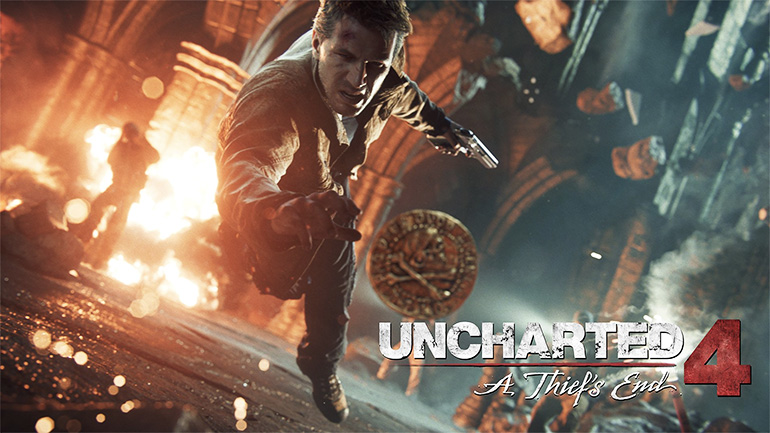 Happy Friday!! It's been a week of highs and lows – lows mostly just health-related, but luckily there's been far, far more highs! I haven't really done a "Friday Favorites" post as I prefer to do more of a monthly favorites round up but since I've been pretty bad about doing those I thought why not try something a little different. I might do this every Friday, just when I have stuff (and time) to write about so we'll see how it goes. Anyway, without further adieu, here are five highlights from my past week (give or take a few days).
1. Uncharted 4: A Thief's End 
After five long years, it's finally here!! I remember playing the first Uncharted game back in 2007 and instantly falling in love with it. It was different from other games in it's interesting plot, cinematic storytelling, character depth, and gorgeous graphics – and each subsequent game has only gotten better in each of those areas. I remember when I first learned that my to-be-future-boyfriend, Luke, also loved the game and how much fun we had replaying the second and third game together with our friend Randy. I've been eagerly anticipating this final installment for years – even though the release date kept getting pushed back, I trusted the production company, Naughty Dog (who also did the superb The Last Of Us game), that it was truly so they could make the game the best it could possibly be – and I was not disappointed!
Don't worry, I won't give any spoilers, but it lived up to all my expectations and more! Randy had preordered the game, so he, Luke, and I played it the night it came out and the next three consecutive nights staying up until 2am each night (if we didn't have work, we probably would've played it all in one sitting). Each day, I couldn't wait for us all to get together later that night to keep playing the game. Luke wrote an awesome review that you can read over at his blog HERE that I highly recommend checking out. All in all, it was an incredible final  adventure with Nathan Drake and co. – I can't believe how attached I've become to these characters – it's definitely bittersweet to bid them farewell. I'm very sad to see this series end but so happy to see it do so the way it did. This game (and series) deserve every bit of praise it receives. Well done, Naughty Dog, well done.
2. My Dad Visits LA
My dad came to visit for a couple days this last weekend! It wasn't long enough to do a lot especially since my health still isn't all that great and I spent one full day pretty much just sick in bed, but we still had a lot of fun in just the small amount of time he was here. Since I can't drive or leave home much, I do get lonely during the day and it can be a struggle finding rides to doctor appointments, to pick up prescriptions, buy groceries, etc. even living with my sister since she works and, of course, has to live her own life as well. It was really nice to have my dad's company and help while he was here. In between two of my doctor appointments, I even had a chance to show him around UCLA's campus and we got lunch at this sushi place inside this really neat building – and they had great lunch specials! I had to give 12 (my record!) tubes of blood after that so I'm glad I was able to fill up on lots of food! During his stay, he, my sister and I, also got to do some errands at Ulta, Target, and Michael's (I'm so excited to get a little crafty!), had dinner at Olive Garden, saw
Captain America: Civil War
again (our second time, his first), and made a cherry pie! He and I even binged the first half of Attack On Titan together! -Now that I'm listing everything, it actually seems like we did do a good amount of stuff for just 2 and half days. As you can probably tell, I love my dad and am definitely a Daddy's girl. He's coming back out soon to continue to help me out with health stuff and I can't wait to spend more time with him!
Ebates Birthday
If you didn't know, I LOVE 
Ebates
! Absolutely absolutely love it. I do most of my shopping for anything online and I always check 
Ebates
 first (although now I have the Google Chrome extension so it lets me know right away when I visit a site if it qualifies for Ebates). Really quickly, if you don't know what Ebates is, it's my biggest shopping secret – although not really a secret at all because I rave about it to anyone and everyone that will listen. It's an online cash back shopping site – after you sign up (it's completely FREE!), you can start receiving cash back on your online purchases. It's really that simple. I've received hundreds of dollars back just from making purchases I would've normally done anyway. Well, this last week was their birthday week and in celebration they had 15% cash back on over 250 stores, many of which were already having super great spring sales to begin with. It's like getting an extra 15% off whatever you're buying. I wish it could've been longer as I don't think I nearly took advantage of it as much as I could have. I bought some Urban Decay Revolution lipsticks (they're being discontinued so being sold at half price $11 everywhere now) at
Ulta
and
Macy's
and got a some great clearance items at
American Eagle/Aerie
for a steal of a price. If all my raving has convinced you and you haven't signed up with 
Ebates
 yet, here's my referral
link
so you can start getting cash back yourself! If you are an Ebates member, did you get any great deals during the birthday week? I'd love to hear about them in the comments!
Boys Like Girls 10 Year Anniversary
Oh, Boys Like Girls (or BLG)… I was never really into bands or music much growing up (outside of what my dad listened to like ABBA, the Carpenters, and the Beatles), but that changed when I was introduced to BLG on TRL back in 2007. I instantly loved the song The Great Escape and also couldn't help but imagine each of the band members as the Marauders from Harry Potter (Martin=James, Paul=Sirius, Bryan=Remus, John=Peter) – yep, I'm a nerd. My sister and I became HUGE fans and basically went to every single show they ever had in Florida (quite a few) and went to most of their meet and greets. On our first show at the House of Blues, we had spent days making a scrapbook for the lead singer, Martin, for his 22nd birthday which had just passed. We found the band manager and gave it to him to give to Martin. Minutes later, Martin asked to see us backstage so he could thank us. They all were so nice! The next time we saw them (which was a more intimate show inside an FYE store I believe), he remembered my sister and I as the "Scrapbook Girls" and his dad who was with him even said they had the scrapbook sitting on their coffee table back home in Boston. Anyway, all of this to say, I have very fond memories of this band and was beyond excited when I heard they were doing a
10 Year Anniversary tour
(has it really been 10 YEARS??) BUT then I looked at the show venues and they're all on the northern east coast – NOOO!! If one was in Florida, I could possibly make a trip home but other than that, there's no way. Oh well. As a consolation though, they released some limited edition vinyls of their first album and while I missed out on the first pressing, I managed to score a
second
. I can't wait to play it on my Crosley!
Voltage Otome Sale
As mentioned in my
Guilty Pleasures
post, I might be a tiny bit addicted to Voltage otome games and recently they had a HUGE spring sale that included 15 of their apps (old and new). I only buy stories when they're on sale and had been saving up so it was a great chance to try out new apps and characters. Most of their main stories were 25-50% which is great, but what really got me excited was the fact that their sub stories (which I've never seen on sale), were 75% off. It was a super short sale, only 3 days, and I spent more than I'm willing to admit but I also know I probably won't buy any stories for a good long while. Voltage is doing a booth at Anime Expo this year which I'll be volunteering at (the con, not the booth) and I'm really excited to see what they'll do. If you're a Voltage fan or will be at
Anime Expo,
please feel free to reach out to me – I'd love to meet up! Also, if you're curious about Voltage otome games and would like to check them out but don't know where to start (it can be overwhelming, there's quite a few of them), I highly recommend
In Your Arms Tonight
(Kippei's route),
Kiss of Revenge
(Irie),
Metro PD: Close to You
(Kirisawa), and
My Sweet Bodyguard
(Katsuragi).
What were the highlights of your week?

Linking up with these lovely blogs <3