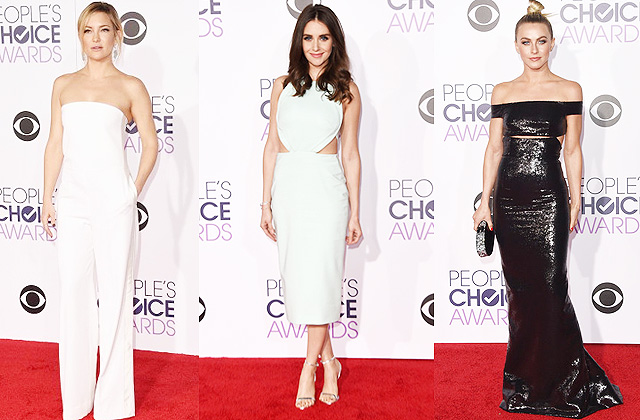 Every year, the People's Choice Awards kicks off awards season (although, in my opinion, it doesn't officially start until the Golden Globes) and every year I am 1) baffled by the amount of award categories, 2) baffled by almost all of the winners of said numerous categories, and 3) disappointed with the red carpet fashion (at least as a whole – there have been a few gems here and there). I don't know if the stars are intentionally lowering our expectations so they can surprise us at the bigger upcoming award shows or what but I'm always underwhelmed and this year more so than any other in the last 5 years. In years past, I've done a Top 5, but this year it's down to three:
1.

    
Kate Hudson
– Galvan – It's classic, it's chic – it's nothing all that special, but she's rocking it so confidently I gotta give it up to her. Plus, I love the hair, makeup, and lack of distracting accessories. In a sea of fashion that had a lot going on, I found it's simplicity refreshing.
2.

    
Allison Brie
– I don't know who the designer is, but that might be for the best as I'm not exactly a huge fan of the dress itself. I think the color is great on her and I love her hair and makeup, but the top part of the dress is just…awkward. I've looked at several photos of it and yep, it's a weird fit, but since it was slim pickings for me this year it still makes my list.
3. 
Julianne Hough
– KaufmanFranco – I would've loved to have seen this dress in white or gold (along with no top knot and softer makeup), black just seems so…harsh. It's still an incredible gown with a great fit that looks amazing on her body, I just wish the whole look wasn't so severe.
 I will admit, I have very specific fashion tastes so if you did like the red carpet fashion, good for you, it just wasn't my particular cup of tea. Here's hoping I have better luck tomorrow with the Golden Globes!
What did you think of the red carpet fashion?