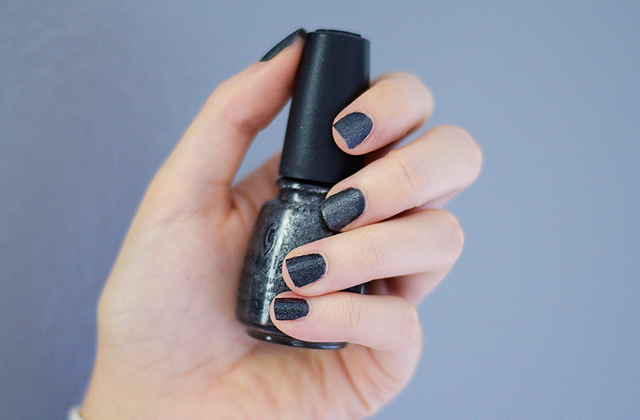 Today I'm reviewing one of my favorite nail polishes – China Glaze's Stone Cold originally from their Hunger Games collection. I wore it for Christmas and plan on wearing it for New Year's Eve as well. Even though it's one of my all-time favorite nail polish colors, this review won't be all positives as it certainly has its cons.
Stone Cold is a truly beautiful and unique dark gunmetal grey color with slight shimmer that dries with a matte texture. It's the first matte polish I ever bought and unlike anything else I have. I absolutely love that it actually looks like graphite. It has a very cool neutral look that I find very versatile as it looks both edgy and sophisticated. It's definitely a go-to for special occasions and events.
Unfortunately, it's formula leaves much to be desired. It applies well enough and goes on pretty opaque after one coat, but I still recommend using two as I've never come across a more chippable nail polish. An hour (sometimes less) after applying two thick coats AND a base and top coat, it's already chipping if I'm not careful with my hands. The next day, half of the polish on every finger on both hands is pretty much gone. On the upside, like many matte polishes, it dries super fast so re-doing/touching up your nails isn't so bad.
All in all, this stunning nail polish isn't without it's flaws. I wouldn't recommend it to someone who's wanting a long-lasting, no-chip polish, but it's color is just so different and pretty that I still think it's great for something specific like a party or a night out – just find yourself a reallyyyy good top coat!
It retails for $7.50. I'm not sure what luck you'll have finding it in stores as it's from an older collection, but
Amazon
(not an affiliate link) has it for $6.95 plus free shipping!
What's your favorite matte polish?