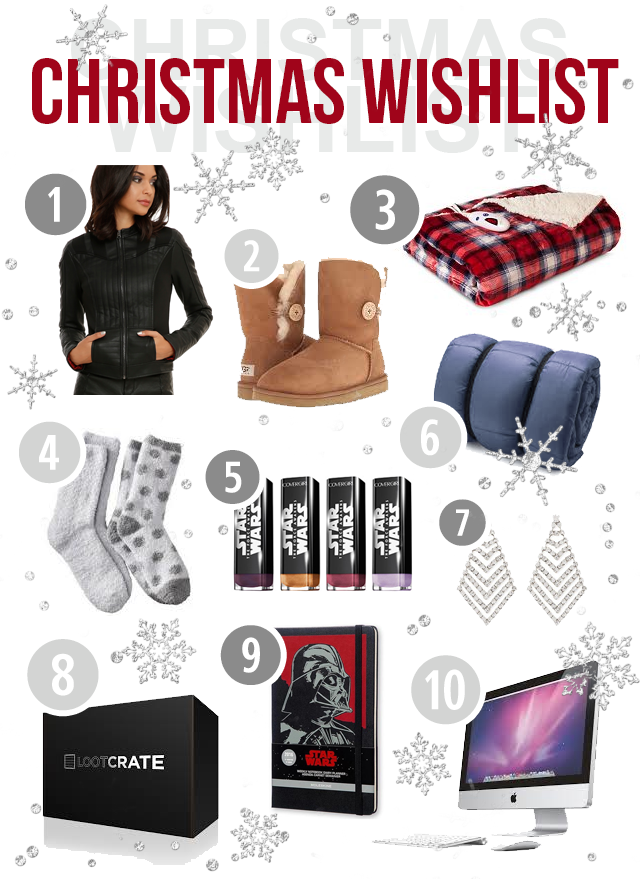 Why does it get harder and harder each year to think of stuff you want for Christmas? My family has been asking me the last couple weeks what I'd like, but I've been so busy with end-of-the-year work stuff and exams, putting together a "Christmas list" hasn't been much of a priority so that's why I haven't posted it until now. I realize it's too late to help anyone out anymore (sorry, Daddy!) but for anyone curious about what I'm currently loving this holiday season, here ya go:
Darth Vader Inspired Leather Jacket – Many of the fashions at Her Universe are hit and miss with me – I usually prefer the styles over at We Love Fine a bit more, but I am ALL about this jacket! Love the subtle details that a Star Wars fan would definitely recognize, but that it's totally wearable for everyday. Not a bad price point either!
Comfy Boots – Sometimes I just want to leave my apartment in my sweatpants whether it's just to get the mail or get groceries and regular boots just won't do. They certainly don't need to be Uggs as they are quite pricey, but as long as they're comfortable, easy to slip on, and fit – I'll have no complaints about what it looks like or what brand it is.
Heated Blanket – I'm always cold, and I love the feeling of being wrapped up in a blanket. A warm blanket. This would be perfect for those cold winter nights where I just can't get warm fast enough.
Fuzzy Socks – For my perpetually cold feet. Plus, who doesn't love cute fuzzy socks?
Sleeping bag – I went camping for the first time this year then later "camped" out overnight at the Chinese Theater for Star Wars tickets – both times I had to borrow my boyfriend's sleeping bag because I don't have one. I plan on doing more camping trips this coming year and *hope* to soon have a sleeping bag to call my own.
Covergirl Star Wars Makeup Collection – There was a time I would've bought the entire collection, but I'm really trying to cut back on my makeup purchases – at least until I use up a good portion of it. Still, this is Star Wars so I'd like to have a few of the items especially the Super Sizer mascara since it's my current go-to mascara that I absolutely love and maybe one of the more wearable lipstick colors and a nail polish.
Small Drop Earrings – I used to be into big hoop earrings then big drop earrings then no earrings at all – now I'll wear earrings occasionally for special occasions or when I'm feeling fancy and when I do, I like them small and dainty. Not a stud, I still want a little something hanging but nothing that will feel like it's weighing down my ear or will get tangled in my hair.
Loot Crate subscription – I've been eyeing this monthly subscription box for gamers, geeks and nerds for some time now – the quality and variety of the items/fandoms in each box really impresses me and I think it'd be something super fun to receive each month.
2016 Moleskine Planner – With my busy schedule, it's probably not too surprising that I'm pretty attached to my planner. I love my 2015 Moleskine planner and wish it could keep going all through 2016 but, alas, it's end is near and it will be time for a new one. Luckily, Moleskine has a Star Wars collection for 2016 which I can't wait to get my hands on!
iMac Desktop Computer – One day. One day I will gift this to myself. Gotta keep saving up!
What's on your Christmas list this year?