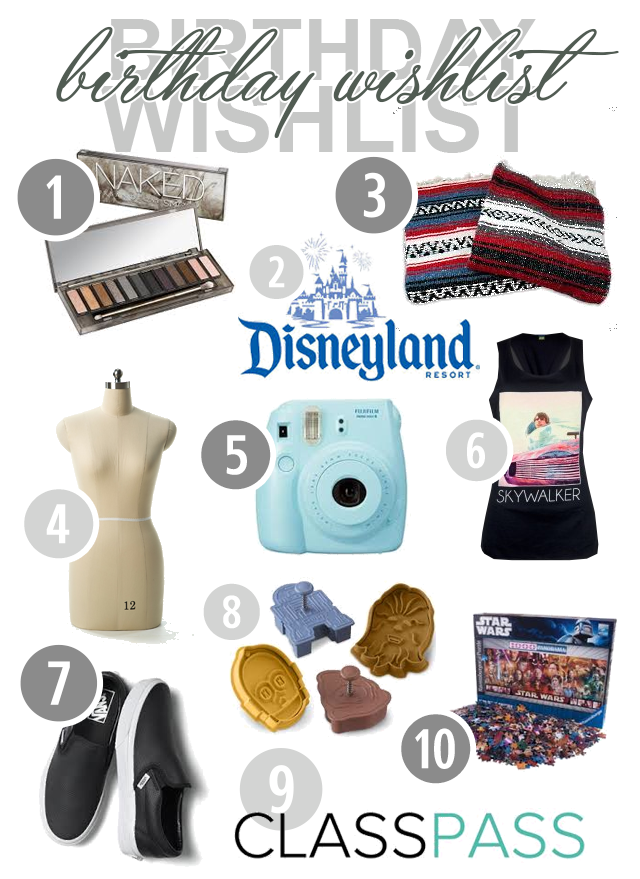 Another year gone by so quickly! I will be turning 26 this Friday, October 2nd. As per tradition, here is my annual birthday wish list of things that I am loving right now.
Urban Decay Naked Smokey Palette – My go-to eyeshadow palettes, I've always been a big fan of Urban Decay's "Naked" line and this palette certainly doesn't disappoint with 12 beautiful shades. Over the summer, I took a break from smokey eyes, but with the arrival of fall I think I'm ready to bring them back!
Disneyland Tickets or Pass – I want to go to Disneyland SO bad!! I haven't been to any Disney parks since I was a kid, and I would love to change that! Those tickets aren't cheap though!
Mexican or Heated Blanket – I am chronically cold and must always have a blanket near me. I chose these two particular kinds of blankets because I've been getting nostalgic for Mexican blankets which I had growing up, and I've always wanted a heated blanket!
Dress Form – I sell clothes online as well as dabble in cosplay so having a dress form would be great for clothing photography and, of course, sewing purposes.  
Polaroid Camera – I've always wanted a polaroid camera! I love taking polaroids and having actual physical photographs to use and decorate as I please.
Star Wars Tops – I've been obsessed with Welovefine's Star Wars tank tops! I love their dropped armhole, raw edge style and the fact that they're so cool and trendy looking I can wear them everywhere from conventions to working out to lounging around my apartment to girl's night out or date night. I have 4 of them already and would love to add this Skywalker Landspeed Tank to my rotation.
Shoes – I'm not really a shoe person, but you wouldn't think that if you looked at my shoe collection. Unfortunately, most of my shoes have never been worn and I'm in the process of selling many of them (holler if you're a size 6.5/7!) because I know I'll never wear them. I don't go out much anymore so I don't have much use for fancy heels, but I could definitely use some casual everyday shoes. These Vans Perf Slip Ons look stylish, comfy, and versatile for everyday wear. 
Cute baking stuff – Oven mitts, ice trays, cake pans, cookie cutters, etc – make it a cute and nerdy and I'll love it.
Class Pass – I've heard nothing but great things from the handful of friends who have done this. While my current schedule would make it nearly impossible for me to really utilize it, if it ever clears up a bit (however unlikely for at least the next 11 months), I would love to try it.
Puzzles – I am a jigsaw puzzle maniac! I could literally do them all day and night. My boyfriend has already earned major points by getting me a 750 piece puzzle on his recent trip to Seattle which I'm super looking forward to doing!
Do you have an upcoming birthday? What's on your wishlist?