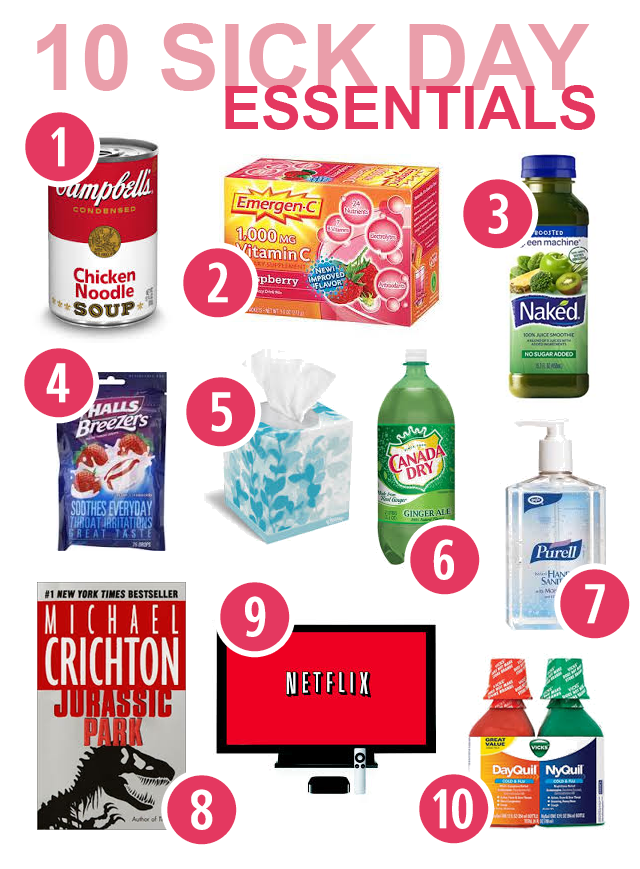 I absolutely hate being sick. Growing up, I used to get sick ALL the time and even just a couple years ago when I lived in NYC, I was more often sick than not. After living in that massive germ-flourishing city, my immune system has definitley gotten a lot stronger and since my move to LA, it's much rarer that I'm ever ill. I also like to think that I've gotten a lot better at combatting sickness as soon as the first signs show so my sick time is minimal. Two days ago, I experienced one of those first signs – a slight tickle in my throat. I knew I was going to be sick soon and immediately started fighting it. Homemade chicken soup – check. Fluids – check. Lots of sleep – check. The next day, I naturally had a sore throat, fever, and stuffy nose. Fun times. Since I work from home, it doesn't affect my work much, but I do have a camping trip (my first ever!) and a wedding this weekend. Luckily, this sickness hit me early in the week so I've got a good handful of days to completely recover and because I went full-force in fighting it early, as of today all I have left is a slightly runny nose. Another day or two and I'll be good for hiking! 
So we all know it's no fun being sick. Here are my 10 Sick Day Essentials that makes enduring it a little easier.
1. Campbell's Chicken Soup – I have a wonderful homemade recipe that I usually make, but this time around, the veggies in it actually started irritating my throat so I went back to this tried and true favorite. No matter what the sickness, this stuff does the trick. Also, once I'm done eating all the chicken and noodles, I'll mix two eggs in the remaining broth, heat it up over the stove and have an "egg drop" soup that's also great.
2. Emergen-C – As soon as that first sign of sickness shows, I start chugging glasses of this stuff. Not the best tasting, but it does seem to minimize the length of your sickness. If you're not into Emergen-C, my sister swears by Zicam although I find the taste to be even worse.
3. Naked Juice – When I'm sick, I normally can't eat my normal fruits and veggies but I can drink them! This ensures I'm still getting all those good nutrients and vitamins that my body needs. I especially love the Green Machine – so good!
4. Throat drops – A true life saver! Sore throats can be so painful and these help so much in soothing them. Unless my throat is absolutely killing me, I prefer drops without menthol like these tasty Creamy Strawberry Halls Breezers.
5. Tissues – Definitely worth dishing out a little extra money to get some that won't be so harsh on your nose! I've bought the cheap stuff before only to regret it later on when my poor nose is all red and peeling.
6. Ginger Ale – I don't drink most soda since I get terrible headaches if I drink caffeine but I love ginger ale. I know it's mostly for calming stomach ailments, but it seems to help in other sicknesses as well.
7. Hand sanitizer – I don't want to go around my apartment spreading more germs!
8. A book – If you're one of those people wishing they had more time to read, well there's no better time than when you're sick. I'm currently reading Michael Crichton's Jurassic Park for the first time and loving it. 
9. Netflix – When I'm feeling so sick and blah that I can't read anymore, Netflix is the best. Catch up on your favorite show, binge-watch a new series, check out that movie that's been on your queue forever – here's your chance. Since I've just come back from D23, I've had Disney on the brain and so far have watched Mulan, Tarzan, and Lilo & Stitch. 
10. Nyquil – Lots of rest and good sleep are so important to a speedy recovery. However, there are times where, no matter how hard you try, you just can't go to sleep. That's when I break out the Nyquil. Knocks me right out.
What are your sick day essentials?